Posts: 3
Joined: Sun Sep 18, 2011 1:49 pm
here is a painting that i just completed it is done in acrylics on 9" x 10" on hardboard
Posts: 3
Joined: Wed Feb 16, 2011 10:50 am
LIKE!!!!

attractive and easy to look at. Please tell us a little about it. I am very interested . . .
Tony
My Website
I am not great at anything - I am in a transition
Posts: 1110
Joined: Thu May 08, 2008 12:15 am
It's beautiful.
i'm liking the striking colors, design, and the meaningful symbols.. it's all good:)
Posts: 2653
Joined: Mon Oct 20, 2003 1:41 am
I guess almost everyone has an opinion about what the USA flag stands for, and the Cross is the second-most universally recognized symbol on Earth (the McDonalds Golden Arches are #1, no kidding). Probably a lot fewer people are familiar with the third and most prominent symbol that we see here. It comes from the
Zia tribe
. It is also found on the State Flag of New Mexico, adopted in 1925.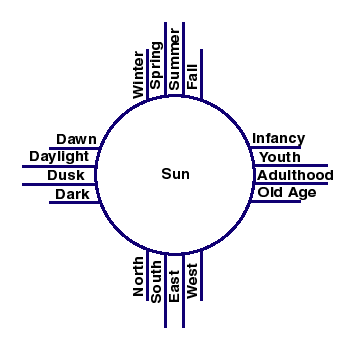 Last edited by
Carson Collins
on Sun Sep 25, 2011 12:02 pm, edited 1 time in total.
The Ocean Series
Nice painting, even though the colors are fairly intense they do work well to together for me . Also I like the graphic quality of this painting it was a good approach and is successsful in my opinion. I'm glad Carson explained the background of the main symbol I didn't know what it meant, now it makes sense as the focal point. Nice work.
Posts: 43
Joined: Thu Jul 29, 2010 8:44 am
I know very less about American symbols and history, what is the meaning of this painting?
Regards,
Keshava

Nothing much in particular.
Posts: 17
Joined: Thu Oct 20, 2011 12:52 pm
Very nice! I like the colors!
"Imagination is more important than knowledge."
~Albert Einstein~
---
Users browsing this forum: No registered users and 13 guests