Posts: 183
Joined: Sun Jan 14, 2007 7:38 am
C-nick, I think the feet need to be larger, it throughs off the perspective for me.
Posts: 183
Joined: Sun Jan 14, 2007 7:38 am
C-nick wrote:Lamentation over Christ
To make the feet the proper perspective would make the painting look strange to most... I shouldn't say anything about the painting but that's how I see it. Draft it out and see for yourself (unless he had small feet?)
GrubeGallery wrote:(unless he had small feet?)
Hard to figure..........walking on water & all.......
In honor of my birthday I'm posting some stuff from one of my favorite artists, Peter Paul Rubens.
Portrait of Maria Serra Pallavicino by Peter Paul Rubens, 1606
Portrait of Marchesa Brigida Spinola Doria by Peter Paul Rubens, 1606
Saint Ignatius of Loyola 1620-22, by Peter Paul Rubens
Happy Birthday,
C
!
These paintings are awesome!
My dear.....what LARGE collars they wore back then!
Can you imagine sitting there posing like that for very long even without a collar?
Posts: 714
Joined: Fri May 25, 2007 9:37 am
Agreed fantastic paintings C-nick
and a Happy Bithday to you also from me
HAPPY BIRTHDAY, C-nick!!
My Website
I am not great at anything - I am in a transition
Thank you all! And Gary, I had enough trouble posing with my cousins for pictures as a kid, my grandma was never amused, let alone wear those collars for a sitting.
Thanks again everyone,
C.nick
Posts: 1207
Joined: Mon Aug 03, 2009 11:36 am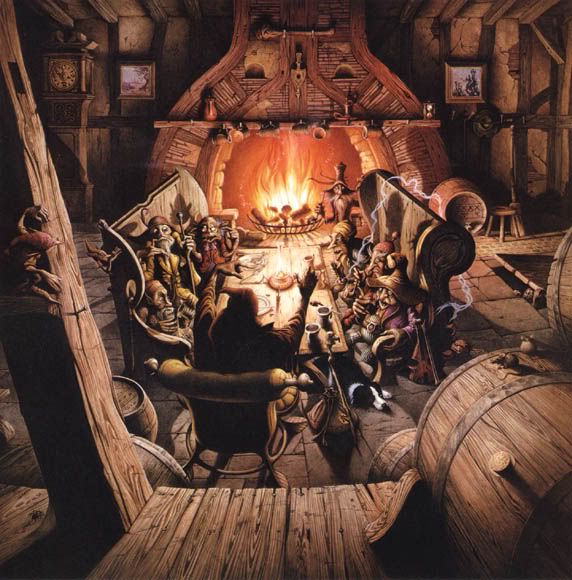 'On a story tellers night' - Magnum (1985)
Copyright - Rodney Mathews -
http://www.rodneymathews.com
I love the work of Rodney Mathews, whose artwork graced many Rock albums..
This particular scene is sooooo inviting and I wish that I was present at that table, nice and cosy by that big fireplace supping on one of those tankards of ale and listening to amazing stories all through the night:)
HAPPY BIRTHDAY TOO C!!!
"Why do we call our planet, planet Earth, when it is almost entirely covered in water"? Arthur C. Clarke.
---
Users browsing this forum: No registered users and 3 guests